Bladder accumulator hydraulic power station
Product Description
The hydraulic accumulator power station are consisted of up 2sets accumulators and valves and the station,which is used in hydraulic system. they function as shock absorption, pulsation damping, and functions as emergency power source, volume compensation. it consists of shell , bladder, charging valve, valve group, and entrance joint. Valve group, entrance joint and inner space of shell form a mixed canal of parallel connection and series connection, and excellent in shock absorption and pulsation damping.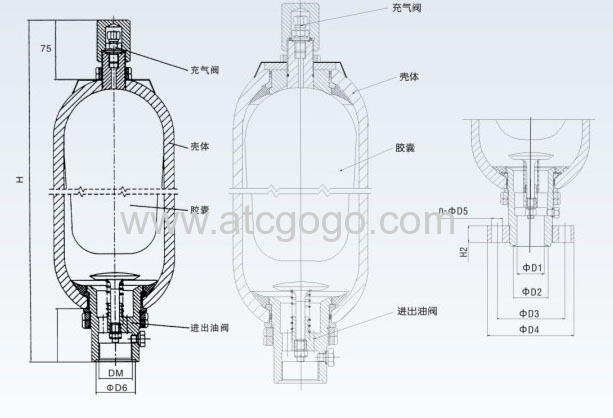 Bladder Accumulator Dimensions
Part Number

Volume

(litres)

Pressure

J

Connection(L)

A & ØD

Length/Diam

(mm)

Weight

(kg)

(Mpa)

(Bar)

(ISO)

(BSPF)

NXQA-0.4/*

0.4

10

20

31.5

100

200

330

M27x2

3/4"

250/89

3

NXQA-0.63/*

0.63

320/89

3.5

NXQA-1/*

1

315/114

5.5

NXQA-1.6/*

1.6

M42x2

1 1/4"

355/152

12.5

NXQA-2.5/*

2.5

420/152

15

NXQA-4/*

4

530/152

18.5

NXQA-6.3/*

6.3

700/152

25.5

NXQA-10/*

10

M60x2

2"

660/219

48

NXQA-16/*

16

870/219

63

NXQA-20/*

20

895/219

68

NXQA-25/*

25

1170/219

84

NXQA-32/*

32

1420/219

103

NXQA-40/*

40

1690/219

119

NXQA-50/*

50

1934/219

142

NXQA-40/*

40

M72x2

2 1/2"

1080/299

135

NXQA-63/*

63

1500/299

191

NXQA-80/*

80

1810/299

241

NXQA-100/*

100

2220/299

290
Assemblage and Installation
Cleaning all the parts and inside surface of the shell before assembling, then:
1). Insert the bladder by pull rod;
2). Install the name plate and lock nut on gas valve side;
3). Insert the oil valve and then the rubber coated retaining ring;
4). Locate the oil valve on to support ring fit gaskets and spacer ring, then tighten the lock nut and making sure the assembly is centrally located;
5). Fit the bleed screw with gaskets;
6). Finally mount the gas valve, then tightens again the lock nut.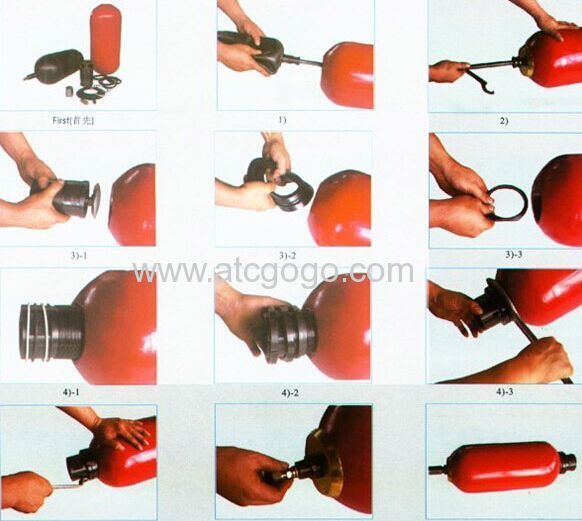 Matters Need Attention
1.Charging of Nitrogen.
(1) Accumulator shall be inspected before nitrogen is charged.
(2) Nitrogen shall be charged slowly to ensure the bladder be not broken by quickly charging.
(3) Oxygen,compact air or other flammable gas shall not be used.
(4) Gas charging device shall be used in charging the nitrogen.Gas charging device is inseparable part of accumulator to be used in charging,draining,measuring and adjusting the charging pressure.

2.Determining of charging pressure
(1) Buffering impact: charging pressure shall be the norminal pressure of installation site or a little above.
(2) Absorbing fluctuation:Charging pressure shall be 60%of average pressure of fluctuation.
(3)Storage of energy:Charging pressure shall be lower than 90%of minimum working pressure and higher than 25% of maximum working pressure.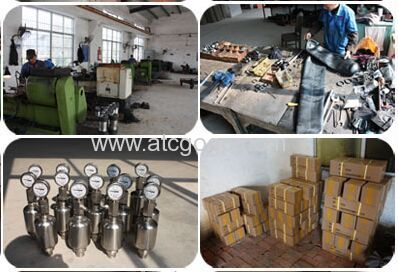 3.Packaging & Shipping
Inner packing: opp bag, then carton box for each product

Outer packing: export standard carton, Foam outside protecting the goods against damage

Usually we ship your order by sea or by air...

We do our best to ship your order within 1 week after receiving your payment

We'll tell you the tracking number once your order has been sent

We accept T/T Bank transfer, L/C, Western Union, Moneygram, Paypal




4.About us

1: Various style for each products and completely series pneumatic products for you to choose from.
2: Large stock for fast shipping.
3: High quality with competitive price
4: Sample order & small quantity order is ok

5:Customize according to your special demand.
6: Provide free products information.
7. Reliable quality assured and active after-sell service

Feel free to contact us at anytime if you have any problems or questions on your purchase.

We will resolve any problems such as damaged, not as described, missing parts, and lost items.

All emails will be replied within 24 hours except Saturday. & Sunday and Chinese holidays.

If you have any other requirements or questions, welcome to visit our website, or just contact

with us directly. Thank you!



SKYPE:atcgogo