Directional control valves with removable coil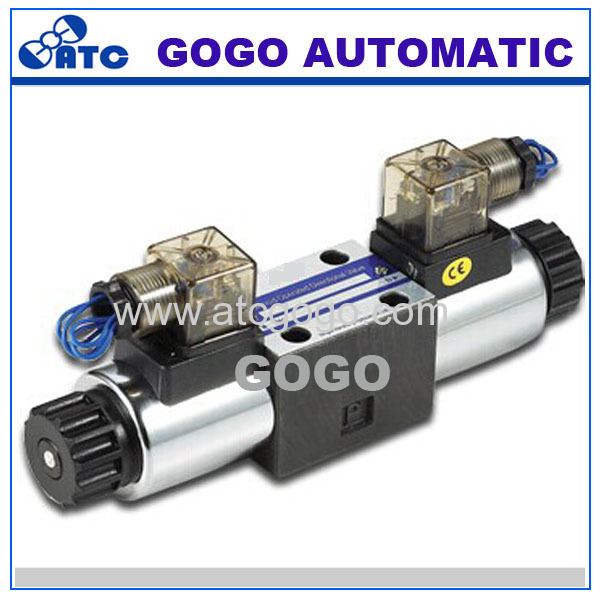 Features:
-Direct solenoid actuated directional spool valve
high performance version
-Wet pin DC or AC solenoids with removable coil
-Solenoid coil can be rotated through 90 °
-It is not necessary to open the pressure tight
chamber when changing the coil
-Electrical connections either as individual or
central connections
-Hand override, optional
Functional description, section

Essentially the directional control valves consist of housing (1), one or two solenoids (2), the control spool (3),and one or two return springs (4). In the de-energized condition the control spoof (3)is held in
the neutral or initial position by means of return springs (4) (except for impulse spools).The control spool (3)is actuated via wet pin solenoids (2)
The force of the solenoids (2)acts via the plunger (5)on the control spool (3)and pushes this from its neutral position to the required end position. This gives free--flow from P to A and B to T or P to B and A to T.
When solenoid (2) is de-energized, the control spool (3) is returned to its neutral position by means of the
return springs (4). An optional hand override (6),allows movement of the control spool (3)without energising the solenoid.

Ordering details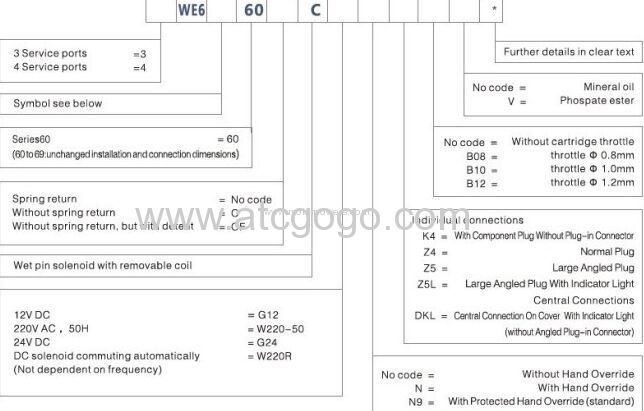 Technical data

Hydraulic

Max. operating pressure (Mpa)
port A, B, P

to 35.0

To21.0(=);to16.0(~)If the operating pressure is above the pressure permitted at the T port.

port T

For ports A and B, the T port must be used as a drain connection

Max. flow L/min

To 80(=); To60(~)

Pressure Fluid

Mineral oil or Phospate ester

Viscosity range mm²/s

2.8~500

Temperature range ℃

-30~+80

Degree of contamination

Max. permissible degree of contamination of the fluid is to NAS 1638,class 9.β10≥75

Electrical

Voltage type

DC Voltage

AC Voltage

Available voltage V

12\24\42\60\96

42\110\120\230




110\180\205\220

50760Hz

Power requirement

30



Holding power

-

50VA

Switch-on power

-

220VA

Duty cycle

100%

Switch on time (ms)

25 to 45

10 to 20

Switch off time (ms)

10 to 25

15 to 40

Protection to DIN 40050

IP65

Switch frequency cycles times/h

15,000

7,200
3.Packaging & Shipping

Inner packing: opp bag, then carton box for each product

Outer packing: export standard carton, Foam outside protecting the goods against damage

Usually we ship your order by sea or by air...

We do our best to ship your order within 1 week after receiving your payment

We'll tell you the tracking number once your order has been sent

We accept T/T Bank transfer, L/C, Western Union, Moneygram, Paypal




4.About us

1: Various style for each products and completely series pneumatic products for you to choose from.
2: Large stock for fast shipping.
3: High quality with competitive price
4: Sample order & small quantity order is ok

5:Customize according to your special demand.
6: Provide free products information.
7. Reliable quality assured and active after-sell service

Feel free to contact us at anytime if you have any problems or questions on your purchase.

We will resolve any problems such as damaged, not as described, missing parts, and lost items.

All emails will be replied within 24 hours except Saturday. & Sunday and Chinese holidays.

If you have any other requirements or questions, welcome to visit our website, or just contact

with us directly. Thank you!