Festo type air filter regulator series air unit mini mid max Zinc Alloy or Aluminum Alloy
1:Festo Air Filter regulator-OFR Series Air Unit
2:widely used in machinery.
3:Port size:G1/8 to 1 inch.
4:1 year warranty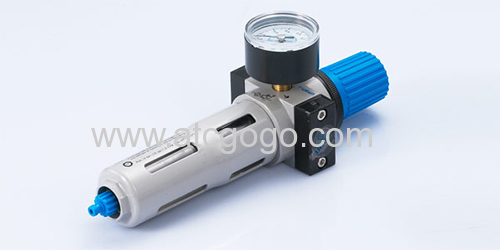 Festo type air filter regulator
1. Order
2.Specification
Festo Air Filter regulator OFR Series Air Unit
The OU consisted of OFR and OL,each unit can be ordered separately.
The OF with water separator cleans the compressed air of fluid oil,condensation and dirt particles.For special application,the standard 40μm filter element may easily be replaced by a 5μm filter element.
The OR maintain imputting constant operating pressure despite fluctuation in line pressure and the amount of air consumed.
The proportional lubricator adds a regulated quantity of oil to the filtered air.The oil-mist content proportional to the flow and oil can be added during operation.The oil drip rate is controlled by the adjustable bolt.Normally,1to 12 drops /1000L of the air is sufficient.
Features:
(1 ) Filtering Grade: 5μm
(2) Proof Pressure: 1.6Mpa
(3) Pressure Range: 0.05-1.2MPa
(4) Temperature Range: 5-60°C
(5) Port Size: Mini-1/8", 1/4", 3/8"; Midi-1/4", 3/8", 1/2", 3/4"
(6) Min. Standard Normal Flow Rate: Miini: 3L/min; Midi: 6L/min
(7) Material Infomation: Housing: Zinc die-casting;
Filter bowl and oil bowl: PC;
Metal Protective Hood: Aluminium alloy;
Adjusting knob: POM
Sealing: NBR;
Size
MINI
MIDI
MAXI
Medium
Compressed air
Features of structure
Sintered filter with waterseparator;MINI/MIDI:Diaphragm type regulator; MAXI:Piston regulator
Mounting type
Pipe mounting or foot mounting
Assembly position
Vertical ±5°
Connection
G1/8
G1/4
G3/8
G3/8
G1/2
G3/4
G3/4
G1
Standard nominal flow rate
OFR-...(-A)
750
1400
1600
3100
3400
3400
9000
10000
OFR-...-7-(-A)
900
1500
1700
3400
3900
4000
9500
16000
OFR-...-5M-(-A)
650
1200
1350
2400
2500
2600
7300
7600
Primary pressure
Manual condensate drain
1~16bar
Automatic condensate drain
1.5~12bar
Working pressure
0.5~12bar / 0.5~7bar
Grade of filtration
40μm / 5μm
Max.condensate capacity
22ml
43ml
80ml
Temperature range
0~60°C
Materials information
Housing:Zinc die-casting;Filter bowl:PC; Metal bowlguard:Aluminium alloy;Sealing:NBR;Adjusting knob:POM


3.Dimensions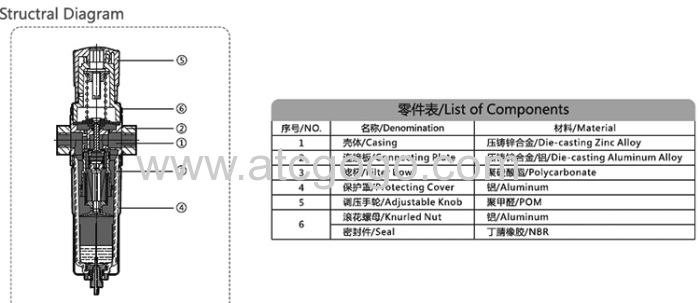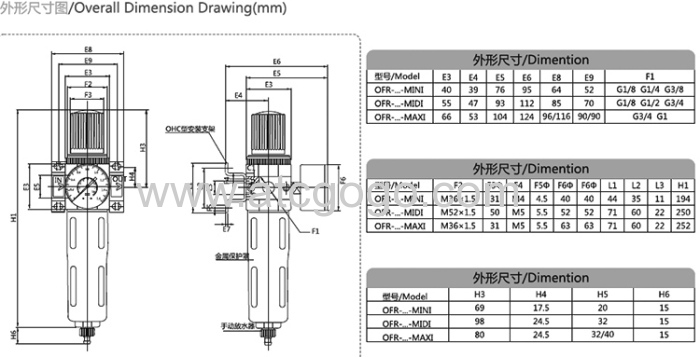 LFR-MINI-1/8 filter regulator festo for lipstick filling machine
4.Packaging & Shipping

Inner packing: opp bag, then carton box for each product

Outer packing: export standard carton, Foam outside protecting the goods against damage

Usually we ship your order by sea or by air...

We do our best to ship your order within 1 week after receiving your payment

We'll tell you the tracking number once your order has been sent

We accept T/T Bank transfer, L/C, Western Union, Moneygram, Paypal
5.About us
1: Various style for each products and completely series pneumatic products for you to choose from.
2: Large stock for fast shipping.
3: High quality with competitive price
4: Sample order & small quantity order is ok
5:Customize according to your special demand.
6: Provide free products information.
7. Reliable quality assured and active after-sell service

Feel free to contact us at anytime if you have any problems or questions on your purchase.
We will resolve any problems such as damaged, not as described, missing parts, and lost items.
All emails will be replied within 24 hours except Saturday. & Sunday and Chinese holidays.
If you have any other requirements or questions, welcome to visit our website, or just contact
with us directly. Thank you!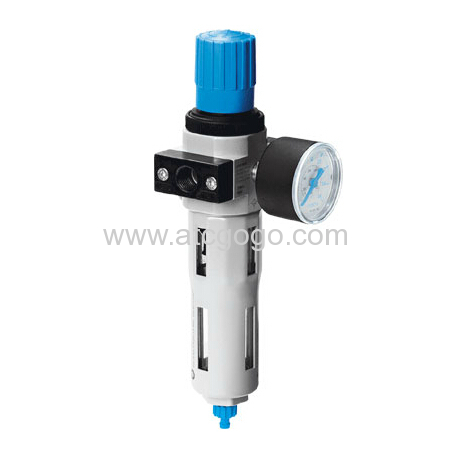 Zinc Alloy or Aluminum Alloy